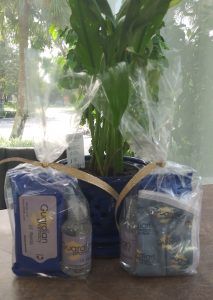 Since the early stages of the COVID-19 pandemic, Guardian Pharmacy SEFL's director of business development, Debi Schulman, has continued working with our community partners, assuring them of our commitment to their well-being. During these unusual times, Debi has strategically worked in the field to demonstrate that Guardian Pharmacy SEFL is a vital team player.
A seasoned professional, Debi has fostered Guardian SEFL's teamwork efforts, which can be seen through the distribution of PPE (Personal Protective Equipment) to our nursing facility clients.
Among the contributions we've made are 'Gucci' Guardian SEFL face masks, travel-sized hand sanitizer bottles and pre-packaged sanitary wipes.
This collection serves as a great reminder that Guardian is supporting precautionary measures to keep our community staff members safe. It also serves as a reminder that we are dedicated to maintaining continued healthy business relationships.